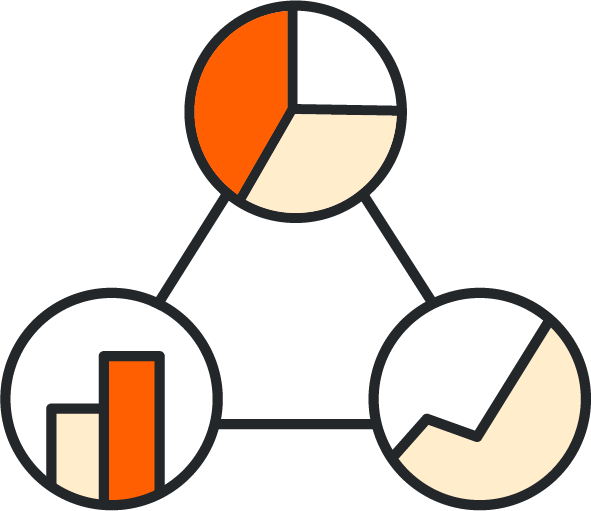 Enterprise and Community Development
Building resilient communities by investing in the long-term sustainability of small enterprises, entrepreneurs, and farmers.
Micro, small, and medium enterprises (MSMEs) make up roughly 90% of the world's businesses and more than 50% of employment, while smallholder farmers provide up to 29% of the world's food supply and account for over 80% of farms in the world. 
Despite their formidable size and impact as a majority in their respective sectors, both groups are the most vulnerable to economic shocks and struggle to compete in larger markets. 
Changing the trajectory of country and community prosperity starts with changing theirs.
Pyxera Global works with these formal and informal businesses beyond the bottom line. We build impactful enterprise and community resilience programs using integrated development, bringing together skilled organizations and individuals who engage communities to think about the challenges they face in new ways. Complementary efforts such as instruction in nutritional farming provides additional household income.
In turn, these efforts directly influence health outcomes. By creating and guiding school parliaments and parent organizations to advocate for education, Pyxera Global takes a holistic approach that considers not just the needs of the business owner or farmer, but the needs of the entire system in which they operate.
Through our Enterprise and Community Development (ECD) practice, we support communities in defining their own vision of success, and we garner the local resources needed to drive the activities that lift entire communities.
Through our Enterprise and Community Development practice, Pyxera Global:
Works with MSMEs, farmers, and start-ups of all shapes, sizes, and levels of sophistication.
Co-creates holistic community engagement programming in rural and urban areas.
Oversees long-term, multi-year investments to strengthen communities and MSME performance, in addition to building resilience for an increasingly volatile future.
Provides exposure to new business and community development practices and approaches that are the difference between barely surviving and thriving.
Fostering resilient ecosystems is a critical success factor for communities and MSMEs.
We weave robust collaborations across the private, public, and social sectors to cultivate enabling environments for farmers, entrepreneurs, and informal businesses. As the community changes, we collectively evolve and adapt services to keep programs relevant and meaningful. Our focus on enhancing and unlocking entrepreneurial talent puts communities on the path to thriving—and resilient—businesses and agricultural sectors.
Using truly participatory assessment and design approaches, Pyxera Global and our partners supports communities in achieving their own visions.
To do that, we engage community members with you and MSMEs in development activities to identify issues they want to solve. We then co-define successful outcomes within the context of what matters most to them. Long after our teams are gone, the community retains the skills and resources needed to sustain that vision, and a greater ability to solve future challenges.
Enterprise & Community Development is only one of our tools for catalyzing change. 
Enrich the communities you work in and your company's employee experience.
Contact us today to start the journey to better.