As part of our on-going series capturing global voices on the impact of the COVID-19 Crisis, Shakti Saran, Pyxera Global's Senior Fellow in Mumbai, caught up with Jayanti Shukla, the CEO of United Way Mumbai (UWM). For over 17 years, UWM has been a leader in cross-sector partnerships, providing more than $52 Million for community development projects. Under the leadership of Ms. Shukla, UWM has been a leader in rapidly responding to the dynamic needs of the COVID-19 Crisis.
United Way Mumbai (UWM) has been on the front lines in confronting the challenges of COVID-19. What has been your experience and what can we learn from this pandemic?
At UWM, we saw the pandemic as an opportunity to provide immense social value. We have been supporting the COVID-19 response efforts since early March and as with all other disasters, we approached this one by focusing on emergency relief, mid-term measures, and long-term rehabilitation. We mobilized resources as a first step, followed by formulating our implementation strategy by focusing on the most critical areas for intervention. This included equipping frontline workers with protective equipment and ramping up much-required infrastructure in hospitals. Additionally, we mitigated the adverse impact of the lockdown on marginalized sections of society by handing out essential rations, sanitation materials, freshly cooked meals, and food premixes besides arranging for safe transportation for migrant labor to return to their hometowns. We supported mass testing for high-risk individuals at municipal hospitals and helped in setting COVID-19 care centers for mass quarantine of asymptomatic persons.
All this gave us a ringside view of the inherent strengths, challenges, and shortcomings in communities, public healthcare, and civic infrastructure. The pandemic and lockdown have brought in full view our society's inherent inequalities and shortcomings. It also brought to the fore the need for social sector professionals to play a critical role in the future.
It [the pandemic] also brought to the fore the need for social sector professionals to play a critical role in the future.
UWM brings NGOs, companies, individuals, and government agencies together to work towards improving community conditions, with the realization that each has a distinct role to play. Never before has this been as relevant as it is now. Collaboration across sectors to solve community problems needs rapid scaling in unprecedented ways. We have over a decade of experience in working in disaster response and recovery, and our resolve has always been to help society "build back better." This time, however, we will need to reimagine our society and build back differently and stronger!
From our experience, the pandemic has revealed that communities must be involved while developing healthcare solutions and also be empowered to take care of themselves since each community has unique needs which a centralized model may not be able to address. The significance of digital technology has never been greater than in the current situation, helping bring a higher level of transparency and rigor in our work, connecting nonprofits with critical resources, and enabling donors to monitor impact. We will therefore need to reevaluate our work, how we adopt technology, and how we work with the corporate sector, government agencies and with each other in the social sector.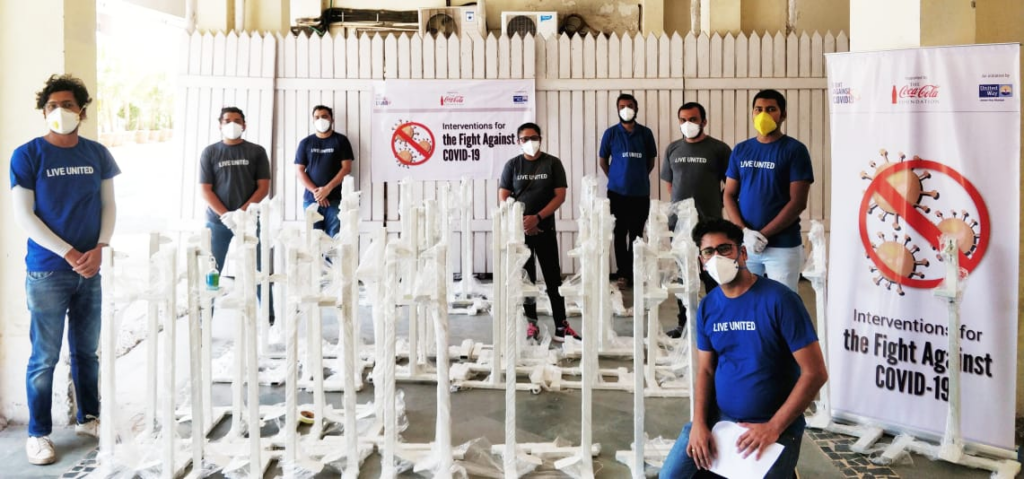 How has COVID-19 impacted India's social sector and going forward, what major changes do you expect to witness?
Most nonprofits are born out of a desire to serve and many of them are doing commendable work at the grassroots level, often filling gaps in government programs. As NGOs struggle to tide over the impact of the pandemic, they are repositioning their programs while simultaneously managing their finances and personnel. The lack of liquidity will affect these nonprofits significantly. Very few organizations in the social sector have a formal business continuity plan in place, and now with a very low possibility of multi-year funding, it is clear to nonprofits that they can no longer rely on old playbooks. CSR budgets are likely to drop and I anticipate many corporations will shift their CSR priorities towards COVID-19. Funding could get skewed and public health may attract a relatively larger share of funding. NGOs will therefore need to build a diversified portfolio of programs to help in sustaining liquidity. They will need to be more discerning in evaluating fresh funding opportunities.
Programs need to pivot rapidly to respond to changing needs, even while coping with travel restrictions and health concerns. Fieldwork operations will show dramatic changes in terms of program design especially introducing virtual activities as a backup to onsite, hands-on activities. This will also apply to volunteer opportunities. Impact measurement metrics of social programs will likely be recast with greater emphasis on digital and remote data collection.
After a recession, philanthropy recovers the slowest. Without a vibrant NGO sector, the country's development goals will stall. Our government has recognized the value that NGOs provide, and I envisage a move towards a stronger collaboration with government agencies. Nonprofits have also experienced the benefits of joining forces and complementing skill sets in programs executed in partnership with one another. We have learned that we must grow together as nonprofit professionals, share experiences, listen, and learn.
Many of your funders include well-known corporations. As part of the emerging new normal, can we expect businesses to focus more on triple bottom line benefits rather than overwhelmingly on profits?
Most of UWM's corporate partners are staying committed to the programs they have been supporting, even in cases of multi-year programs. These corporations are, however, likely to build priority areas in their existing programs. Overall, funding could be reduced anywhere up to 60%. At the same time, larger corporations are seeing this to be the time for making enhanced Environmental, Social, and Governance (ESG) commitments. In many cases, we are witnessing a large number of requests for greater employee engagement towards social causes aligned with the corporations' CSR commitments, although through virtual volunteering engagement opportunities.
What policy level changes would you like to see that would make the new normal more reflective of a just, equitable, and compassionate society?
We will need to reflect and commit to transformational leadership that reimagines the social order and works on principles of equity and justice. Many policy level changes need initiation right now. CSR funding should move towards undesignated funding since there is an urgent need to leverage funds for programs designed for specifically disadvantaged and affected communities. These programs should target better community access to public healthcare and other government welfare schemes. We, therefore, need to re-examine and re-design schemes to provide a greater safety net for the vulnerable. The ESG agenda needs to come center stage and governments, communities, and corporations must join hands to make this happen. We must prepare for a digital economy and enable last-mile digital transformation. Also, our reimagining a new social order will necessarily have to address building a better distribution model for public goods, providing enhanced public health services including mental health, and narrowing inequalities.
How can corporations and the social sector join hands to create meaningful system shifts through volunteering to help manage the current pandemic and prevent one in the future?
Employee engagement needs enhancement to better utilize social capital. Corporations are officially promoting volunteering by employees and making it count by encouraging employees to sign up and contribute to areas like FinTech, EdTech, work readiness, etc. Employees can help NGOs that have staffing and capacity constraints and help equip them to embrace the digital paradigm. Skilled employee volunteers should be encouraged to work remotely and undertake significant back-end work around core functions of organizations engaged in the fight against COVID-19 response.
---
Jayanti Shukla, CEO of United Way Mumbai, India
Jayanti serves as the CEO of United Way Mumbai (UWM) which is a part of the 130+years old global United Way movement engaged in nearly 1800 communities, spanning 41 countries across the world. She took charge of United Way Mumbai (UWM) in 2008. Prior to this, she was with the New India Assurance Co.