How SAP's Social Sabbatical helped expand an educational nonprofit's mission to nearly a quarter million students
The Launch of Embaixadores da Educação (EdE)
Questions of quality, equity, and engagement have consistently afflicted the Brazilian public education system, with massive differences between socioeconomic status and geographic regions. Throughout the enormous nation of Brazil, there are young people who yearn for the opportunity to make changes in the education sector within their communities.
In 2013, a group of public-school alumni began meeting to discuss improving public education and engaging more students in social action projects. Embaixadores da Educação (Education Ambassadors, EdE) was born through these conversations. The nonprofit focuses on youth empowerment and entrepreneurial education for high school-aged public-school students across Brazil by developing proactive local social impact projects and leadership capabilities. Students in recent years have taken leading roles in school improvement projects, such as those that helped initiate anti-bullying awareness or created composting infrastructure.
A Unique Partnership to Expand Educational Quality
When Pyxera Global reached out to Embaixadores da Educação about the SAP Social Sabbatical for global engagement in 2017, the nonprofit was at an early stage in its development. The founders had an innovative methodology that they had proven in working with approximately one hundred students on a small scale. After four years of implementing its programs in public schools, the organization was ready to expand its approach to a greater population.
"We were 21, 22 years old, and a large company like SAP was betting big on what we were doing."

Guilhermina Abreu, Co-founder & CEO of Embaixadores da Educação (EdE)
Fernanda Scur, Pyxera Global's Regional Program Manager, recognized the young founders' ambition and their unique approach to broad issues within the local context of Brazil. When it came time for SAP to select its partners for the program, Scur made a strong case for the nonprofit's potential and for its inclusion in the SAP Social Sabbatical.
"When selecting clients, we see great value in having partners of different sizes, as well as organizations addressing different strategic focus areas of the program," said Hemang Desai, Global Program Director of the SAP Social Sabbatical Portfolio. "Many of the smaller clients are not in a position to access highly skilled consultants like the participants from the SAP Social Sabbatical team, and they typically find great value out of the projects and deliverables. Their openness and agility allow for the realization of transformational impact for their organization."
Establishing an Infrastructure to Receive Training
The beginning of that transformational impact started in July of 2017 when a team of SAP employees from France, Germany, and Israel traveled to the city of Belo Horizonte to integrate into the Embaixadores da Educação team and deliver on their consulting scope of work. The overarching goal of the collaborative project was to assist EdE in scaling its program while maintaining the quality of its methodology.
Even before the project could begin, EdE had to flex its agility to prepare to receive the consultants. Without an office space of their own, the founders worked hard to identify and then retrofit a space offered to them by a partner nonprofit, NAAÇÃO. They also brought on a team member who was fluent in English to help facilitate communication with the SAP team.
As Abreu, remarked: "All we had at the time was organizational leadership who were willing to absorb everything and all knowledge, who were very willing and were aware of our challenges and limitations, and who had a lot of desire and openness to be helped." Given these preparations and the nonprofit group's adaptability, the organization had the key ingredients needed to take part in a successful SAP Social Sabbatical: the drive to grow its impact and receptivity to new ideas.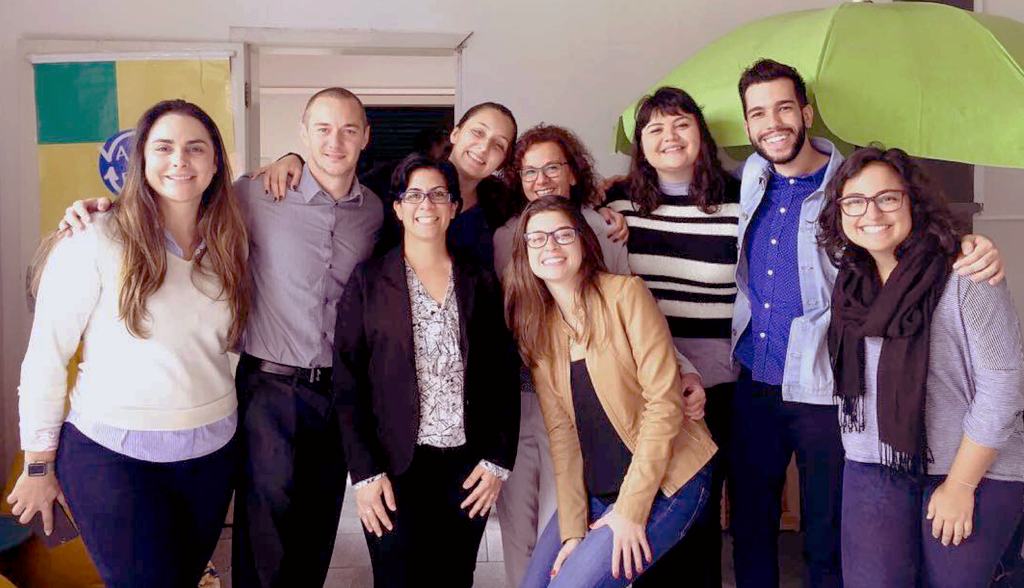 Engagement Through Agile Design Thinking
Over the course of the month-long engagement, both sides expressed a widening perspective from taking part in the program. Participants reported learning an incredible amount from each other by being welcoming to change and nimble in the face of vast amounts of new information. The leadership team of EdE challenged the SAP consultants to see the organization's programs from the eyes of the students and to incorporate those insights into their design thinking approach. This led to memorable days spent in Brazilian public schools, interviewing students and educators and bringing those learnings back to the drawing board.
Equally, the SAP team collaborated with EdE to think strategically about the organization's future by introducing them to common problem-solving techniques used frequently by SAP consultants. Shani Limor, the Israeli consultant from SAP, expressed that she "was able to get a deep understanding of this spectacular, creative, passionate, and smart organization and […] make them understand what their challenges are, so they can prioritize and know what they should work on and improve."
In the end, the SAP team delivered both a business sustainability plan and an expansion plan for the EdE programs, along with a systematized methodology for training their school ambassadors. In addition, Guilhermina credits other intangible impacts from the program as providing EdE with the runway for its programs to expand as much as they have. The consultants introduced the young founders to professional processes, work routines, and structure, allowing them to build their team, introduce new programs, and attract new corporate and public sector partners.
Astounding Growth in Impact
Embaixadores da Educação has experienced tremendous growth in the five years since 2017 and reached out to Pyxera Global with updates and gratitude for their experience in the SAP Social Sabbatical for global engagement. The nonprofit's flagship event, "Crie O Impossível" ("Create the Impossible"), which encourages students to believe and invest in their own futures, attracted 10,000 student attendees in a soccer stadium in the city of Porto Alegre, as well as over 200,000 students and educators virtually from across Brazil. The event included speakers from diverse industries and age groups, including famous businesspeople, musicians, scientists, athletes, artists, social media stars, and current students.
The event acts as a kind of gateway for students to move into EdE's other programs—including "Empower," an app that leads students through the steps necessary to create their own local social impact project and rewards them for innovation, and "Embaixadores da Escola" ("School Ambassadors"), which identifies student leaders who can influence and inspire others to participate and affect community change. In the 2020-21 school year alone, these programs engaged over 2,000 students in community improvement projects.
Reflecting on the organization's growth, Guilhermina revealed her own disbelief in the breadth of their student communities: "It's crazy that there are students from all over Brazil. It's very impressive to us how we were able to do it, and it makes us very proud to see students even from very small cities included. We want to be where opportunities do not arrive."
"Despite the fact that the organization was in an earlier stage of maturity at the time, it was evident that they had a proven impact model. This provided great potential to scale their reach, and we are glad to see that Ede's diligence, hard work and drive have yielded great results for the local community."

Hemang Desai, Global Program Director of the SAP Social Sabbatical portfolio
Partners for Community Equity
Embaixadores da Educação, Pyxera Global, and SAP are all working towards the same goal: creating a more equal and equitable distribution of opportunity for communities worldwide.
For SAP consultants like Shani, the experience drove home how much of an effect a group of driven individuals can have in a short period of time. She conveyed that "the most rewarding part for me was knowing that, with my skills and experience, I was able to actually impact and improve children's lives in Brazil. Not looking at the individual only, but also designing impact for a mass of people."
At the end of the engagement in 2017, the Embaixadores da Educação and SAP teams buried a time capsule that included a five-year strategy co-created during the Social Sabbatical project. Although the pandemic complicated the consultants' return to Brazil for the opening, both teams know that those goals were only the foundation for what EdE has already achieved.
The SAP Social Sabbatical is celebrating 10 years of the program's success. To read more stories and learn about its impact, visit the website.