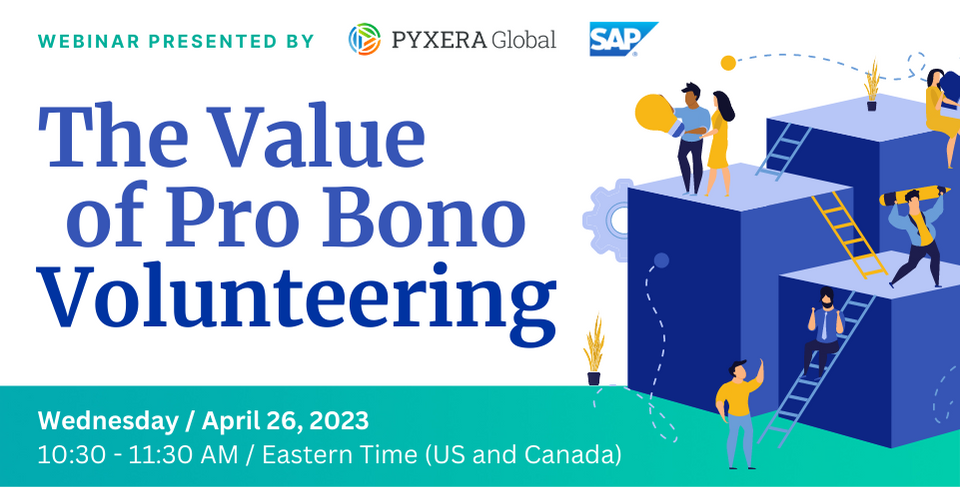 (Washington, DC) April 18, 2023 — In honor of Global Volunteer Month and in partnership with SAP, Pyxera Global is excited to announce an upcoming webinar that will delve into the value of pro bono volunteering and how it can transform your organization. Hear firsthand accounts from past volunteers who successfully used their expertise to uplift communities while maximizing their potential.
Join us for this engaging and informative session, where you'll learn how a successful volunteer program can benefit your employees personally and professionally, while also strengthening your company's brand and reputation as a socially responsible leader.
The webinar will provide insights on:
personal and professional development opportunities for employees through pro bono volunteering programs
how skills-based volunteering can foster a more diverse and inclusive work environment
the role of pro bono volunteering in enhancing a company's reputation and brand value
Don't miss this opportunity to unlock the untapped potential of your workforce and make a tangible difference in the world around you! Reserve your spot today by registering here.
We look forward to seeing you at this inspiring event!
###
About Pyxera Global
Pyxera Global works around the globe to improve community livelihoods and resiliency by leveraging the resources of business, government, and community to solve the world's most pressing challenges. Building on 30 years of experience channeling the innovation, skills, and expertise of industry and community, Pyxera Global customizes its strategy advisory and service delivery to bring about positive social change for people and planet.
For more information, please contact:
Jillian McFarland
[email protected]